Take Me Skiing
Hotel Portavescovo
Arabba, Italy
from

£

781

(17 Mar from Manchester)
17 March
Manchester
The friendly Portavescovo is a comfortable hotel that sits alongside the piste basher route which leads to the slopes, meaning you can ski straight back to the hotel. Off the slopes you'll be welcomed by the warm and friendly hospitality team and catered for with the hotel's excellent facilities which include a brand new Spa area.
Features
Free use of Wellness area. Free use of indoor pool Central Location
Highlights
A friendly hotel in an enviable ski-in ski-out location
Enjoy a great range of hotel facilities including a small Spa
The bar area has a really relaxed feel - perfect for après
A good choice for groups of friends and family
Offers
Free afternoon tea & cake everyday between 4 & 5pm
Free Wi–Fi throughout hotel
Location
Ski lifts - 150m

Ski school meeting point - 100m

Resort centre - 50m
Facilities
Accommodation information
Facilities†:
Restaurant
Bar
Lounge area with TV and reading room
Games room
Music bar on the ground floor with occasional live music
Free Wi-Fi throughout the hotel
Spa features†:
A fantastic new wellness area which was built recently featuring free use of an indoor pool' two saunas' steam room and fitness room
Massages and different treatments are available locally
Rooms (2–4 people): Twin or double rooms with possible extra beds or bunk beds have satellite TV' Wi–Fi' shower' wc & balcony (not first floor). Single rooms are available on request.
Meals: Half Board.
Extensive buffet breakfast and three course dinner including large starter buffet. Weekly Gala fish and seafood dinner. Christmas & New Year meals included.
Official rating: ***
Number of rooms: 57
Child discount: Up to 30% discount. See our child discounts page.
† Some facilities may incur a local charge.
Important information: Italian tax law dictates that a daily 'Tourist Tax' may be charged. If charged, you would need to pay the hotel directly and the amount varies between approx. €0.50 & €3 per person, per day depending on the star rating of the accommodation.
Location
Hotel Portavescovo Location
Ski lifts - 150m
Ski school meeting point - 100m
Resort centre - 50m
Date
Departure

Board

Board Basis

Nights

Nights

Price

10 Mar

Sat 10 Mar

Gatwick

Half Board

Half Board

7

7 Nights

£1,035

17 Mar

Sat 17 Mar

Gatwick

Half Board

Half Board

7

7 Nights

£795

17 Mar

Sat 17 Mar

Manchester

Half Board

Half Board

7

7 Nights

£781
Book With Confidence
Additional Charges
If the number of people staying in this room is less than the maximum occupancy, there may be a slight charge for under-occupancy. Booking fee's apply on all bookings and will be confirmed at the time of booking. Minimum booking fee £5 per person.
Terms and Conditions
Take Me Skiing Terms and Conditions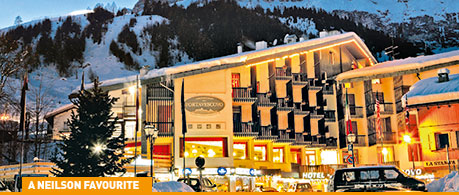 Click thumbnails to view larger images